· Relaxes and calms the mind.
· Connects you with your intuition, with the energy of the moon and with your inner peace.
· Protects and purifies our energy fields.
· Relaxes and calms the mind.
· Stabilizes emotions and helps combat sadness.
· Helps you in healing processes.
· Related to the Ajna Chakra & Crown Chakra.
· Weight: 300-400gr.
· Dimensions: 6-8cm diameter.
· The selenite sphere comes in an organic cotton bag along with an explanatory card.
· Complement your sphere with the selenite bowl as a base.
· It is not recommended to wash it with water.
· All our natural gems have been carefully selected one by one and come from responsible sources.
Do not wash it with water. You can purify it with air rituals, using palo santo or white sage. Charge it at every full moon to boost its power.
Meditate with her for 11 days, holding her in your hands to connect with your inner peace and the cycles of the moon.
Vegan Expedition is a sustainable project with the mission of restoring the link with ourselves and with the Earth.

Go deeper into your essence by joining our spaces for feminine connection, and honor Nature without compromising its delicate balance with the help of our careful selection of sacred elements.
Opiniones
Una Maravilla
Como siempre encantada con los productos de Lili
Cristales energéticos
The selenite sphere is considered the stone of deep peace and helps you in healing processes. An essential gem in any altar and ritual for its numerous energy properties to protect and purify our energy fields. The name of Selenita comes from "Selene", Greek Goddess of the Moon. It is given this name because its color is reminiscent of moonlight. The spheres have the power to emit their energy and properties in all directions.
shipping methods
Shopping guide
View full details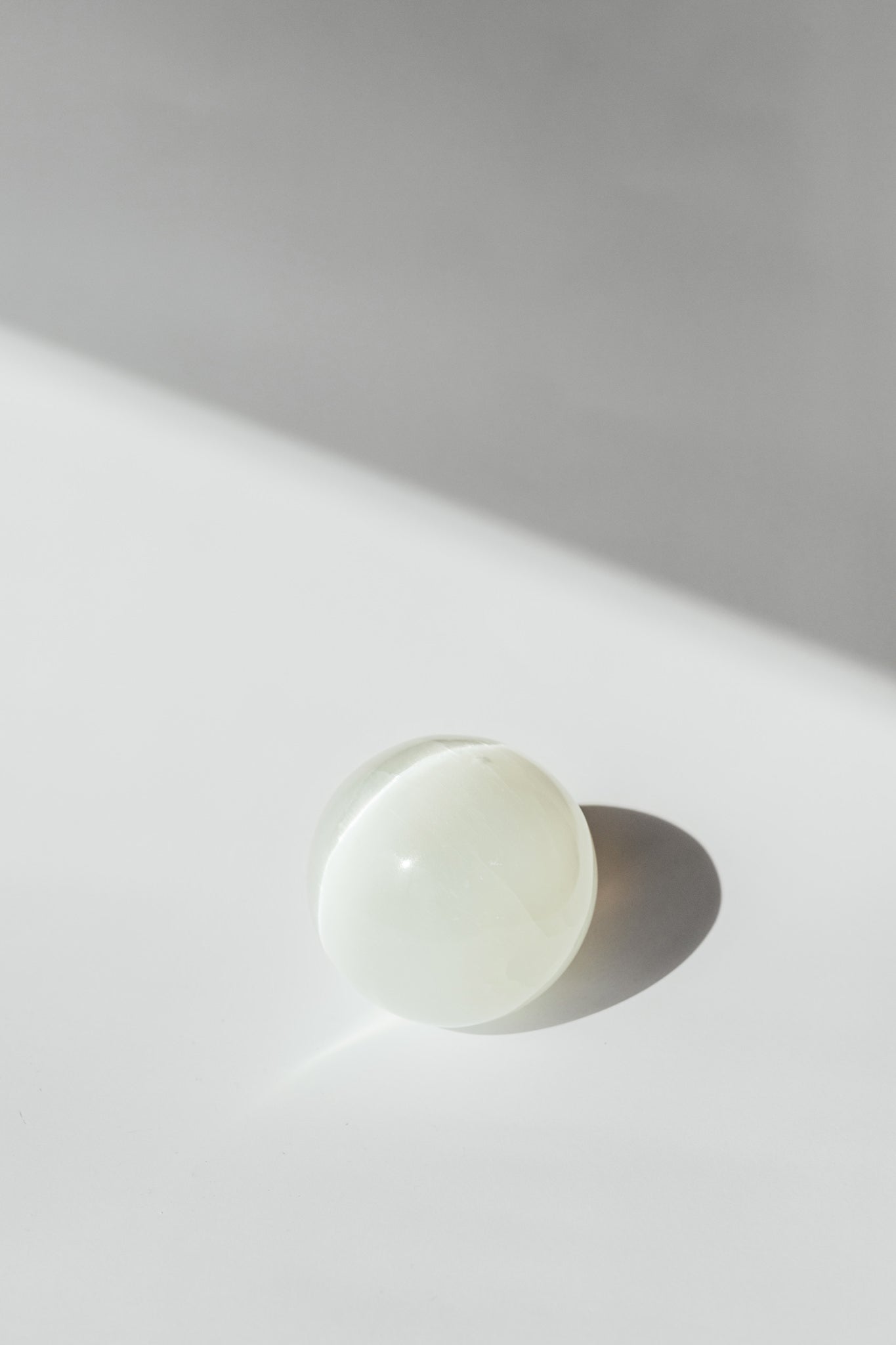 Shipping costs
Orders over €70 are free
The shipping costs will appear before finalizing the purchase process and once the order shipping address has been provided.
Delivery and transport period: Orders placed on Saturday and Sunday are prepared from Monday or the first business day.
Mainland Spain:

 

€5.50 / 24-48h. Free on orders over €70.
Free pick up:

 

You can come to pick up your order at the studio in La Floresta, Sant Cugat del Valles, Barcelona. By appointment.
Balearic Islands:

 

€7.50 / 2-3 days
Canary Islands:

 

€9 / 4-5 days
Europe

 

(Germany, Austria, Holland, France, Italy, Luxembourg): €15 / 4-5 days
Other countries : to be determined upon request. Send us an email.
Shopping guide
The contracting conditions are the following:
Prices. The current prices that appear on the website at the time of order confirmation will be applied. The price of the products is detailed next to each of these. VAT is included, this is broken down later in the purchase process.
Confirmation of Order Receipt
Once your purchase is complete, you will receive a confirmation email with all the details of your order. As soon as the order leaves our studio to its destination, you will receive another email informing you. You will then receive a third email from the corresponding courier company so that you can track your order.
If the package does not reach you within the established period or you have questions about the status of your order, please contact us at namaste@veganexpedition.com.
Payment Methods
We guarantee that each of the transactions carried out in Vegan Expedition is 100% safe . All operations that involve the transmission of personal or banking data are carried out using a secure environment.
Payment by credit or debit card

.

Visa, MasterCard or American Express. The customer can choose to pay by credit or debit card, so that the operation will be confirmed at the time the order is placed.
Payment with paypal
The power behind the Gems
Magic happens through energy fields. Science has studied, through the Kirlian camera, the energy field of crystals, and found that they are similar to those of living beings. They absorb, store, transform and transmit energy from their environment.
Read more