· Purifies and harmonizes spaces.
· Calm the mind and bring serenity to your life.
· Deepens meditation, helps you move to a higher state of consciousness.
· Awakens deep spiritual connections, balancing the Sahasrara chakra (7th chakra).
· It absorbs stagnant energy from space, generating harmony and will cancel the radiation of electronic devices.
· Origin: Brazil.
· The druse comes in an organic cotton bag along with an explanatory card with its main energetic properties.
· Each druse is totally unique and may present some variation in tone, size or present some 'imperfection' by its very nature. This is something that makes them unique.
· All our natural gems have been carefully selected one by one and come from responsible sources.
To purify it you can do it with water or air rituals, with palo santo or white sage.
You can place it in the living room or receive to harmonize and purify the space. If instead you want it to help you relax, meditate with it or place it on your nightstand to help you sleep better.
Vegan Expedition is a sustainable project with the mission of restoring the link with ourselves and with the Earth.

Go deeper into your essence by joining our spaces for feminine connection, and honor Nature without compromising its delicate balance with the help of our careful selection of sacred elements.
Opiniones
Drusa de amatista
Preciosa drusa con una energía de alta frecuencia que aporta una serenidad y armonía únicas.
Lili me dejó escoger mi drusa personalmente y además me llegó súper rápido a casa.
Me identifico mucho con la filosofía de Vegan Expedition, en la que se valora nuestra conexión con la naturaleza y el respeto hacia ella y los animales.
Muchas gracias 💟
Cristales energéticos
Formed in the heart of the Earth, thousands and thousands of years ago, the amethyst druse houses within it high-frequency vibratory and healing energies, which we can turn to to calm the mind, balance the emotions and connect with the soul. .

A powerful powerful gem that will help you connect with your essence and with the Earth. Its purple color and druse shape emits a firm and powerful energy that will help you relieve tension accumulated in your aura, providing serenity and harmony.
shipping methods
Shopping guide
View full details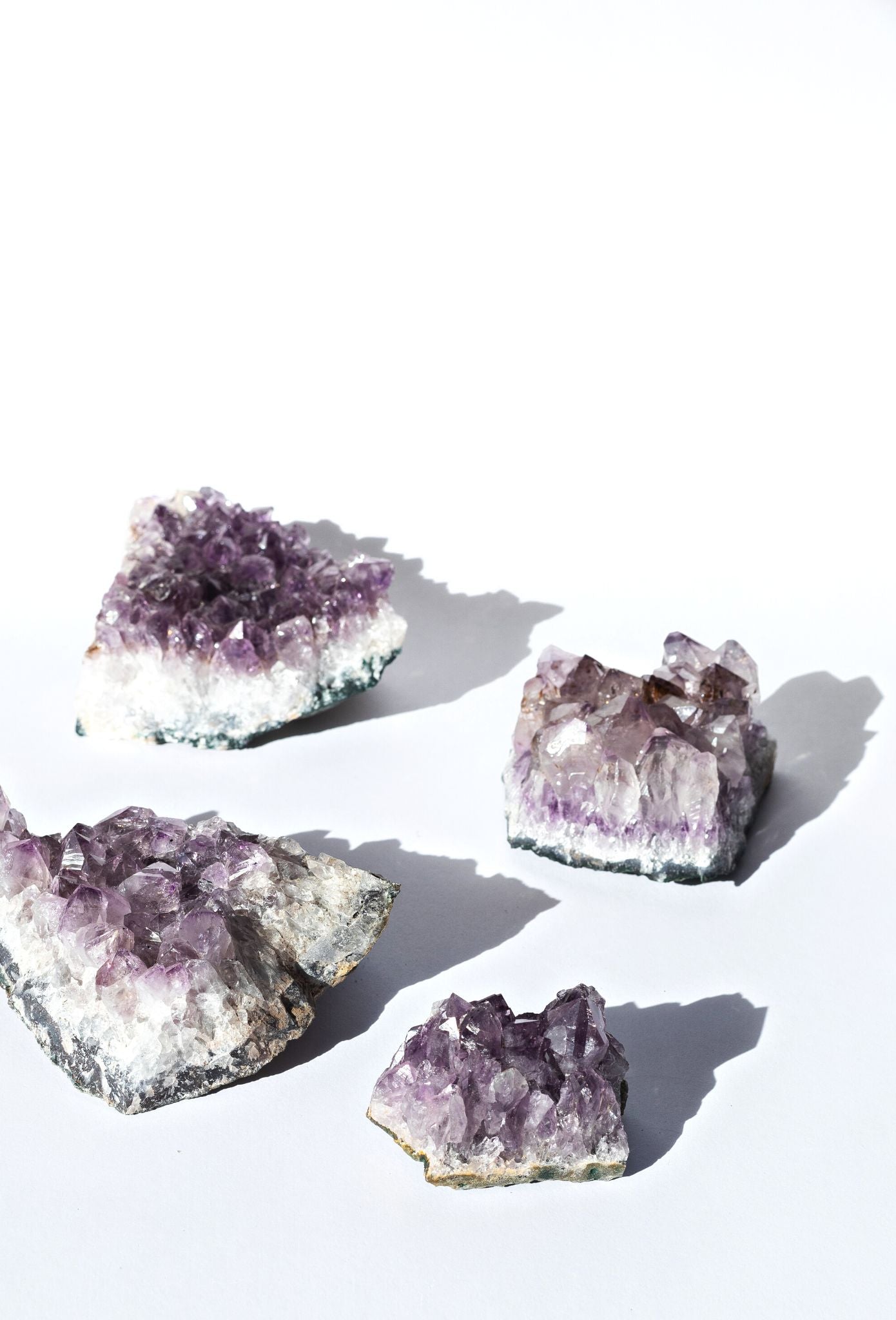 Shipping costs
Orders over €70 are free
The shipping costs will appear before finalizing the purchase process and once the order shipping address has been provided.
Delivery and transport period: Orders placed on Saturday and Sunday are prepared from Monday or the first business day.
Mainland Spain:

 

€5.50 / 24-48h. Free on orders over €70.
Free pick up:

 

You can come to pick up your order at the studio in La Floresta, Sant Cugat del Valles, Barcelona. By appointment.
Balearic Islands:

 

€7.50 / 2-3 days
Canary Islands:

 

€9 / 4-5 days
Europe

 

(Germany, Austria, Holland, France, Italy, Luxembourg): €15 / 4-5 days
Other countries : to be determined upon request. Send us an email.
Shopping guide
The contracting conditions are the following:
Prices. The current prices that appear on the website at the time of order confirmation will be applied. The price of the products is detailed next to each of these. VAT is included, this is broken down later in the purchase process.
Confirmation of Order Receipt
Once your purchase is complete, you will receive a confirmation email with all the details of your order. As soon as the order leaves our studio to its destination, you will receive another email informing you. You will then receive a third email from the corresponding courier company so that you can track your order.
If the package does not reach you within the established period or you have questions about the status of your order, please contact us at namaste@veganexpedition.com.
Payment Methods
We guarantee that each of the transactions carried out in Vegan Expedition is 100% safe . All operations that involve the transmission of personal or banking data are carried out using a secure environment.
Payment by credit or debit card

.

Visa, MasterCard or American Express. The customer can choose to pay by credit or debit card, so that the operation will be confirmed at the time the order is placed.
Payment with paypal
The power behind the Gems
Magic happens through energy fields. Science has studied, through the Kirlian camera, the energy field of crystals, and found that they are similar to those of living beings. They absorb, store, transform and transmit energy from their environment.
Read more