· The smoke of the white sage incense connects us with our essence, with the Earth and our own inner wisdom.
· White quartz: absorbs, stores, releases and unlocks energy, protecting and purifying our body.
· Onyx: releases bad energy from the environment, offering you the space you need to feel safe.
· Rolled Ojo de Tigre, is an earth-colored stone that protects from dangers and helps to recognize skills, something important to know how to choose and protect ourselves from external events.
· Rolled Hematite, is a mineral with a powerful yang element that allows to settle, protect and harmonize body, mind and spirit. Protects the soul and links it with the body during astral travel.
· Tourmaline, is a reference stone for cleaning, protection and transformation. It absorbs the dense energies and directs them towards the earth to be transmuted.
· Handmade white sage incense with white quartz or onyx (to choose).
· 1 Rolled eye of tiger.
· 1 Rolled hematite.
· 1 raw tourmaline.
· Each kit goes inside a cotton bag along with an explanatory card for each element + affirmation.
· Each gem is totally unique and may present some variation in tone, size or present some 'imperfection' by its very nature. This is something that makes them unique.
Purify your energy with the white sage incense, repeat the affirmation 3 times and meditate with the gems. To do deep work, do once a day for 11 days.
Place the affirmation somewhere visible so that it stays with you and supports you.
Vegan Expedition is a sustainable project with the mission of restoring the link with ourselves and with the Earth.

Go deeper into your essence by joining our spaces for feminine connection, and honor Nature without compromising its delicate balance with the help of our careful selection of sacred elements.
Kits rituales holísticos
A kit created for you to protect your energy and elevate your aura. We all have a magnetic field that is related, unconsciously but very directly, with other energy fields. Protecting ourselves from low vibrations is essential to live with quality, well-being, calm and peace. This kit will help you protect your energy and keep it high. Affirmation: "My energy is divine and needs to be cared for and nurtured."
shipping methods
Shopping guide
View full details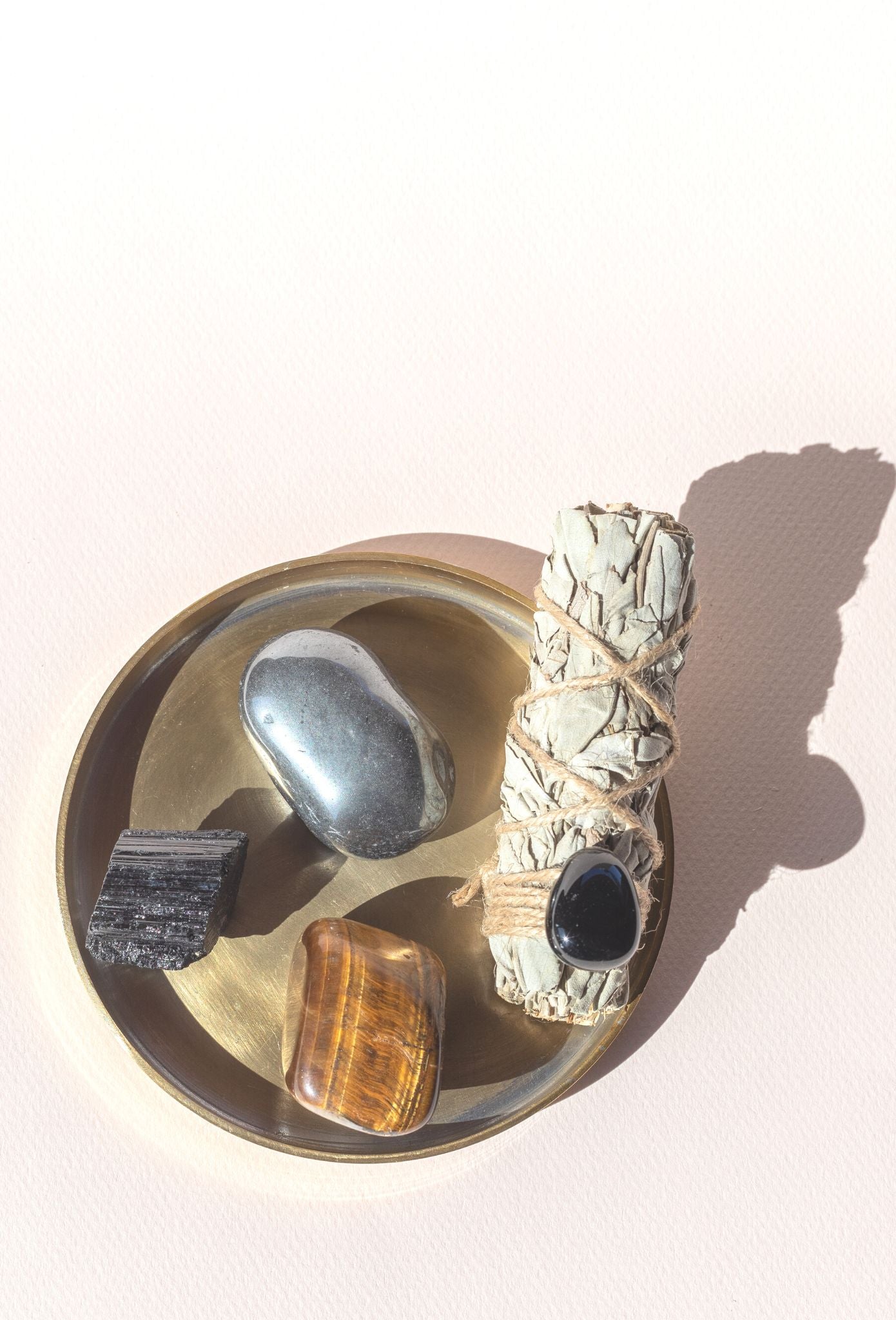 Shipping costs
Orders over €70 are free
The shipping costs will appear before finalizing the purchase process and once the order shipping address has been provided.
Delivery and transport period: Orders placed on Saturday and Sunday are prepared from Monday or the first business day.
Mainland Spain:

 

€5.50 / 24-48h. Free on orders over €70.
Free pick up:

 

You can come to pick up your order at the studio in La Floresta, Sant Cugat del Valles, Barcelona. By appointment.
Balearic Islands:

 

€7.50 / 2-3 days
Canary Islands:

 

€9 / 4-5 days
Europe

 

(Germany, Austria, Holland, France, Italy, Luxembourg): €15 / 4-5 days
Other countries : to be determined upon request. Send us an email.
Shopping guide
The contracting conditions are the following:
Prices. The current prices that appear on the website at the time of order confirmation will be applied. The price of the products is detailed next to each of these. VAT is included, this is broken down later in the purchase process.
Confirmation of Order Receipt
Once your purchase is complete, you will receive a confirmation email with all the details of your order. As soon as the order leaves our studio to its destination, you will receive another email informing you. You will then receive a third email from the corresponding courier company so that you can track your order.
If the package does not reach you within the established period or you have questions about the status of your order, please contact us at namaste@veganexpedition.com.
Payment Methods
We guarantee that each of the transactions carried out in Vegan Expedition is 100% safe . All operations that involve the transmission of personal or banking data are carried out using a secure environment.
Payment by credit or debit card

.

Visa, MasterCard or American Express. The customer can choose to pay by credit or debit card, so that the operation will be confirmed at the time the order is placed.
Payment with paypal
Work an intention.
Prioritizing your self-care is essential to live your life with more presence and harmony. Kits with intention have been created to cultivate your body, mind and spirit by uniting the mineral kingdom with that of plants. Ritualize your day to live with more well-being.
Read more